About Us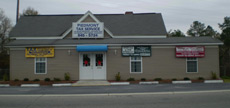 After having done taxes for a large national chain for several years, Bud Bostick decided to go out on his own. He prepared taxes out of his home for a few years, then decided to get an office and Piedmont Tax Service was born. In 1983, he rented a small office in the back of an insurance agency. A few years later, he needed to expand so he purchased the entire building when the insurance agency closed. Bud's son, Matt, started working part-time in 1989 and Sue, Bud's wife, started working full-time in 1995. Matt went full time in 2005 and became an Enrolled Agent in 2006. In 2007, after our building was wrecked, we decided to start a major renovation of the office. Step one was an internal face lift and enclosing the front porch. Step two included adding two additional offices and moving our file room and secretary stations. We also created a conference room to make our meeting space more convenient. We are growing to meet the needs of our clients and make their experience with us more satisfying.
Results
We work with you on a personal level to determine the best solutions for your unique needs, then leverage our seasoned expertise to achieve the best possible results.
Relationships
We are your trusted partner in success. Our firm is large enough to offer a full range of professional services at a fair price, but small enough to give you the individual attention that you deserve.
Relief
Rest assured that when a need arises, our firm is ready and capable to handle everything for you so you can focus on what matters most to you.